Кука-Вака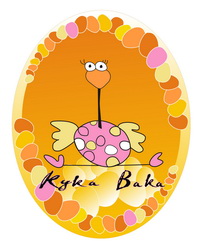 The trademark "Kuka-Vaka" was developed specially for the babies.
Babies often give to surrounding objects and phenomena their own sometimes strange and funny names. So this funny bird, so similar to the soft toy, a child called "Kuka-Vaka".
In our clothes your child will always look stylishly and funny. Child will like delicate colors and image stylized under child's picture best of all reflects child's spontaneity, the perception of the world through the game.
It's important to note that for production of garments for the little ones we use only 100% cotton which has antibacterial properties and doesn't cause allergy, and special dyestuff which do not injure sensitive baby skin. And it means that caring mother's heart can be calm.
We hope that new friend of Your child will become one of the most bright and memorable moments in his life and will grant to Your family the sea of smiles and good spirit.
Tiny apparel made by "Svitanak" will be the best gift to your child.